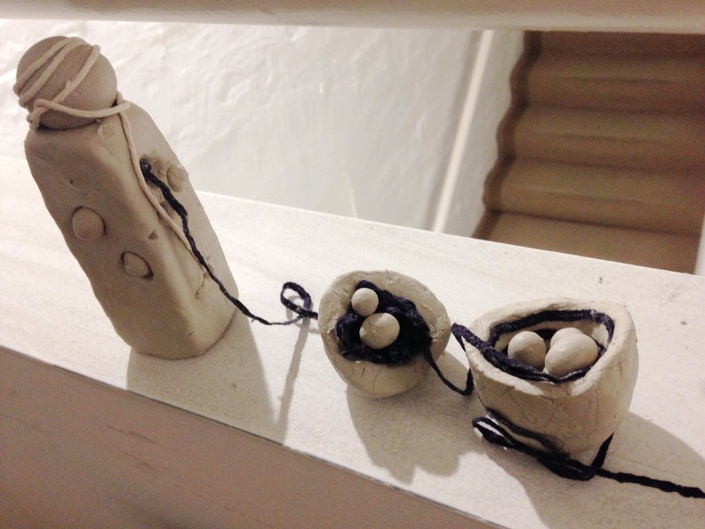 Mindful Relationships
An intuitive and creative journey into relationships that matter
Do you feel your relationship has lost its passion?
Are you looking at your partner more with 'critical eyes' and seeing the faults more than the person?
Do you find you're 'tuning out' more, or 'not being heard' the way you used to?
Let's start by asking, "What is a 'relationship?"
It's a term we define as "Connecting With and Growing Meaningfully". Because connection and growth are both needed for a relationship to thrive. Without them, a relationship can become dormant and left to drift with the tide.
Most relationships have ebbs and flows, so if you feel your relationship is 'ebbing' more than 'flowing', then it may be time to ask deeper questions and explore what it means to be 'relationally present'.
How could you relate more authentically?
What could be 'dampening' the closeness in your relationship?
What would it mean for you and your partner (and your family) to build stronger bonds that bring you closer together in a more meaningful way?
When couples don't last, research suggests the primary reasons are:
poor communication (27%)
lack of connection (21%)
loss of trust due to infidelity (20%)
This means over 70% of people leaving a relationship do so because of a breakdown in how they relate to each other.
More often than not this is because one or both believe their life dreams and hopes aren't being heard, noticed or acted upon.
How important are your dreams?
If you've stopped dreaming, given up hoping for something better or simply believe that 'this is as good as it gets' then perhaps it's time for a check-in to see if your relationship could be enriched by diving into what it means to be an individual within a relationship whose life vision and purpose is realised - not relegated to the back of a busy to-do list that feels as if it's getting longer each day.
What's the alternative?
Most of us know intuitively that if our needs aren't being met, we'll look elsewhere and busy ourselves in external 'hobbies' or 'numbing' activities to minimise the sense of dissatisfaction being felt.
You could wait for this to happen, or, you could do something smart like:
Discovering what you and your partners shared values are
Exploring how you could meet these shared values in ways that will work for both of you
Creating ways to enrich your relational experiences so they add depth and connection
Here's your invitation to join a creative mindfulness journey into all things 'relational'.
Together, let's explore the 'you', and the other significant person in your life that together form a connection or bond - in other words a 'relationship' that is worth growing.
Over four weeks we'll be creatively exploring with clay, paint and pencil the meaning of relationships from a deeply intuitive perspective.
Along the way you'll learn more about your values and how listening to the heart of 'relationship' can help you discover the richness within.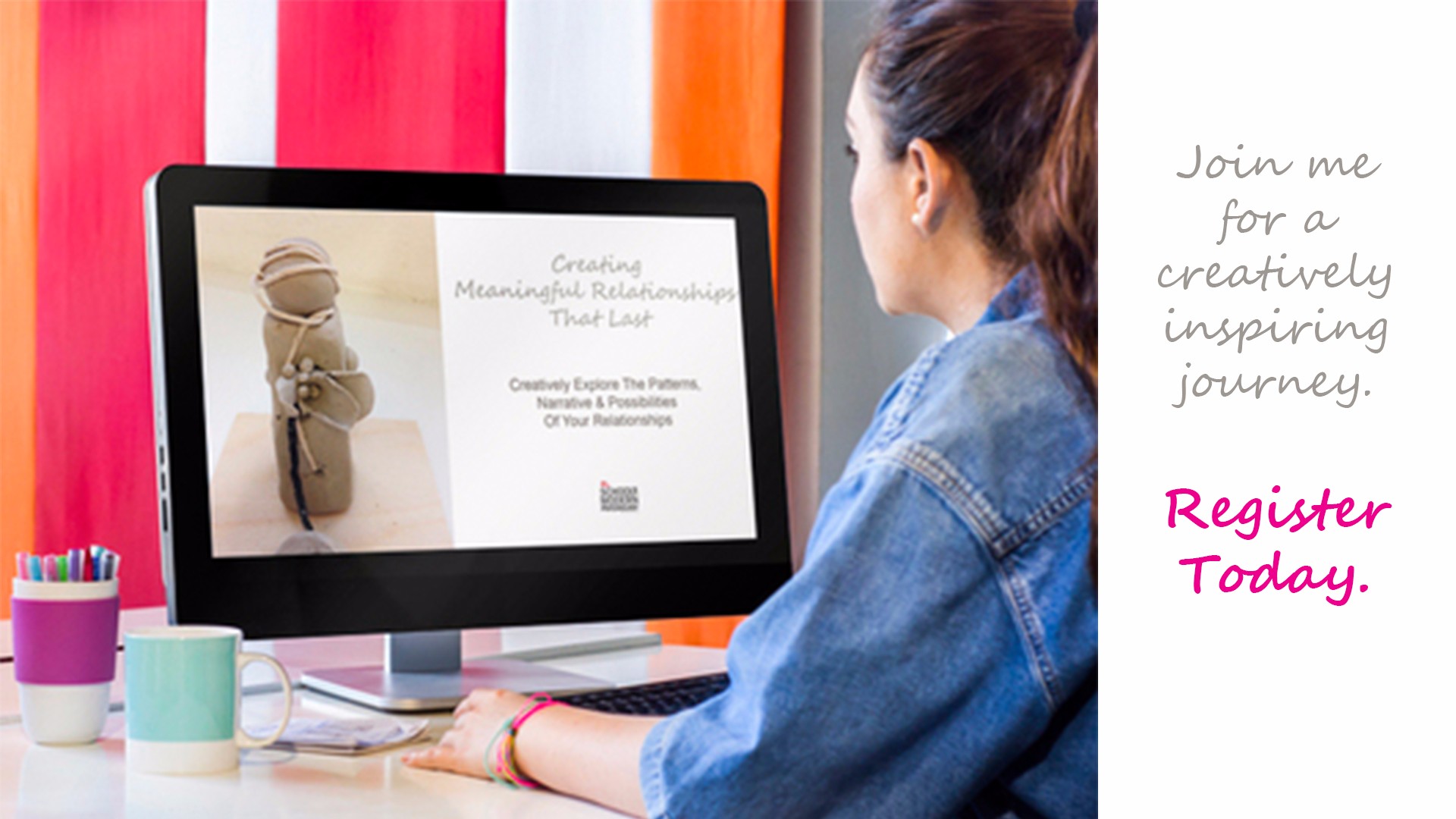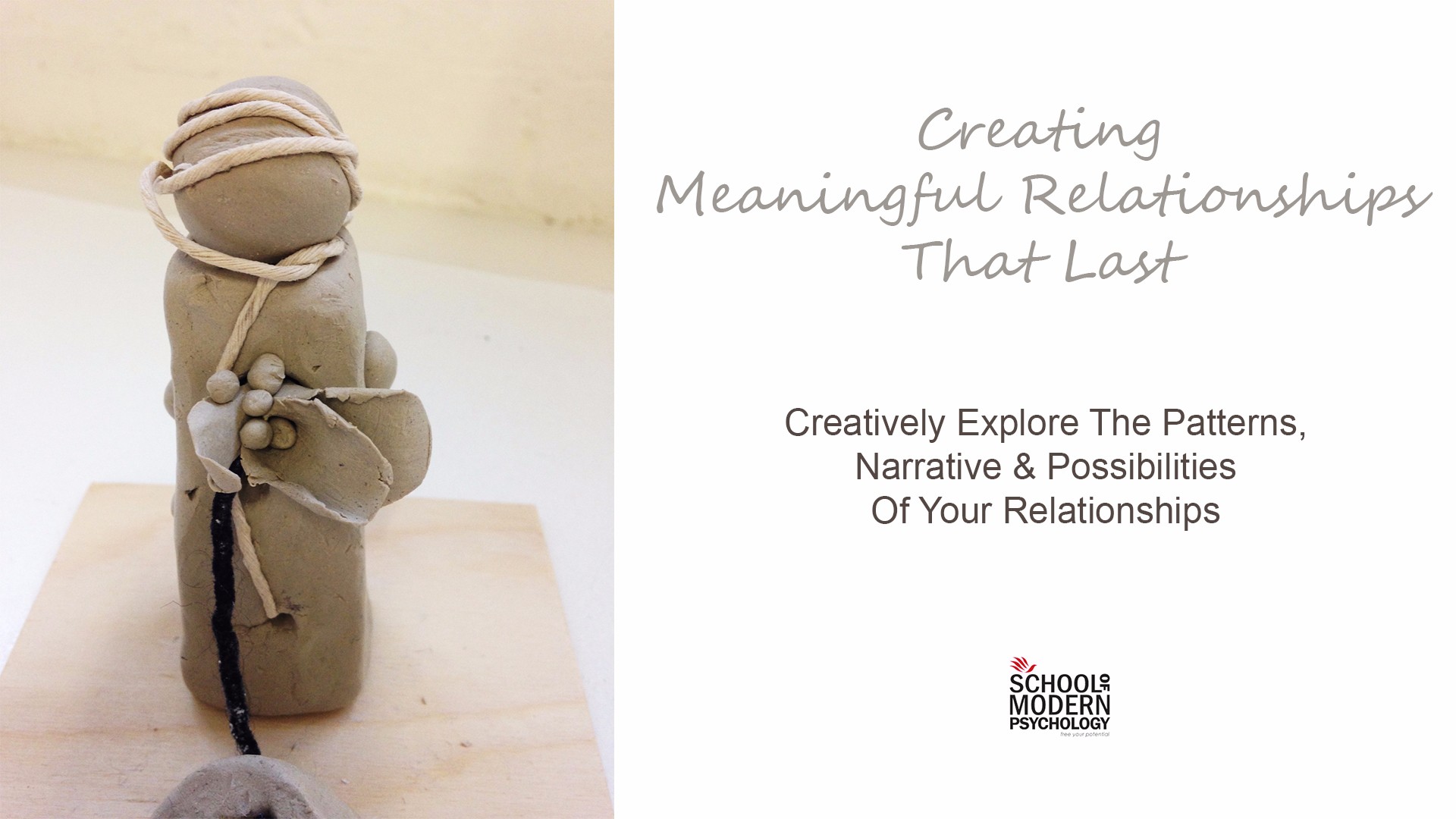 Are you ready to start the Creating Meaningful Relationship Program?
Your Instructor
Let's face it, life serves curve balls. And don't I know it. Over my life I've made some unwise decisions that led to learning how to meet my responsibilities - and at times that was a tough gig often leaving me isolated and joyless. If you've ever gone through life's curve balls (and realistically, who hasn't?) you know that there are really only two options:
For me, sinking wasn't an option, so it depended on how well I learnt to swim as to how I was going to come out the other side.
And along the way, as I moved from dog paddling to freestyle, there were four things I learnt:
That love for others begins with yourself
That it takes courage to start a journey not knowing where it might end
That clearly expressing your needs builds respectful relationships
That knowing what you want means taking responsibility and action
So for many years I studied all I could about human psychology (and continue to) because learning to be the best person I can is important to showing up and being 'real'. It took courage to back myself and stick to what I believed - often in the face of people who said I didn't have what it took, but now I know that I can, I choose to live in the light, not in the shadow.
I chose to step into the person I knew I could be.
I do this work so that others can too. It's my passion. It's my life mission.
Yet, while having passion is important, it's backed by a solid well-earned education that I've synthesised into a set of tools for change. The work I do is influenced by some of my studies.
Here are some:
MA (Professional Communication)
MEd (Leadership and Management)
Experiential & Creative Art Therapist
Relationship Consultant (Gottman Certified)
Graphic Designer
Registered Hypnotherapist and Hypnotherapy Trainer (AHA)
NLP Master Practitioner and Trainer
Executive and Life Coach

While I have spent a large part of my life studying and applying the skills I've learnt from across the world, it's the life lessons I learn along the way that made it all relevant. Without life's curve balls, all the learning in the world would just be 'bookish' and academic. And that isn't the best way to learn (I learnt this the hard way).
I want to share this knowledge with you in a way that is practical, affordable and realistic. The 'theory' side of things is naturally inbuilt throughout our creative process. What this means is that you'll be learning without realising that you're gaining a high level of awareness, knowledge and insight into human psychology. And it is these things that make the difference to living a life of substance.
Frequently Asked Questions
When does the course start and finish?
The course starts now and never ends! It is a completely self-paced online course - you decide when you start and when you finish.
How long do I have access to the course?
How does lifetime access sound? After enrolling, you have unlimited access to this course for as long as you like - across any and all devices you own.
What if I am unhappy with the course?
We would never want you to be unhappy! If you are unsatisfied with your purchase, contact us in the first 30 days and we will give you a full refund.